Sunday, October 31, 2021 |
COVID-19 Nepal Update | 376 New Cases | 8 New Deaths | [source] |
Total Coronavirus Cases in Nepal
https://www.worldometers.info/coronavirus/country/nepal/
Daily New Cases in Nepal
John Hopkins Corona Virus Resource Center
Where are COVID-19 cases increasing? See animated maps.
---
US provides additional support for urgent COVID-19 assistance in Nepal – myRepublica …
MyRepublica – "The US also announced on Wednesday to provide an additional $10.5 million in urgent COVID-19 assistance for Nepal through USAID."
Bhutan's COVID-19 vaccination success a "beacon of hope" for South Asia
Global Voices Kenya – "The country has also managed the COVID-19 pandemic well compared to its neighbours and even helped Nepal by sending them 230,000 vaccines …"
Nepal to receive 4 million doses of Moderna vaccines through COVAX
Economic Times – "AP So far, Nepal has reported a total of 7,28,532 COVID-19 cases and 10,239 deaths. Nepal is set to receive nearly four million doses of coronavirus …"
China to provide additional 6 million doses of COVID vaccine
MyRepublica – "Apart from that, India has provided 1 million doses of COVID-19 vaccine to Nepal through the procurement process. Vaccination will be provided to 20 .."
Tiny Bhutan Outpaces Neighbors With Rapid Covid-19 Vaccination Campaign
The Wall Street Journal – "Among its neighbors in South Asia, India has fully vaccinated 7% of its population against the virus, Nepal 5% and Bangladesh 2.6%, according to Our …"
Nepal Receives 'USD 165 Million Loan' from ADB for COVID-19 Vaccines!
Nepali Sansar – "The fund will help Nepal procure around 15.9 million vaccine doses, sufficient to inoculate about 6.8 million Nepalis. Coronavirus. News. US-Nepalis."
China to donate additional 1.6 million doses of Covid-19 vaccines to Nepal
The Kathmandu Post – "China will provide an additional 1.6 million doses of the Covid-19 vaccines to Nepal in grant assistance, Chinese Ambassador to Nepal Hou Yanqi …"
As Nepal struggles to contain Covid-19, risk of Zika outbreak rises
The Kathmandu Post – "As the entire focus of the authorities is on the containment and management of Covid-19 cases, Nepal could face an outbreak of the Zika virus, which …"
Japan donates about 1.6 million doses of Japanese-made COVID-19
AstraZeneca vaccine for Nepali friends
More than 1.5 million Johnson & Johnson vaccines from the US to Nepal arrived today (Monday, July 12, 2021). J&J is one-shot dose vaccine. J&J vaccine is the easiest to transport so far—they can be stored for up to 6 months between 36°F & 46°F, normal refrigerator temperatures.
Once Nepal gets vaccines, they need to be fairly distributed
Nepali times – "The Nepal-Johns Hopkins University Covid-19 Vaccine Advocacy Group weighs in on dose prioritisation … Global inequities in the distribution of the …"
US sending 1.5 millions doses to Nepal, per Press Briefing by Press Secretary Jen Psaki, July 9, 2021

US shipping COVID-19 vaccines to Bhutan, Nepal on Friday
Reuters – "N) COVID-19 vaccine to Nepal and 500,000 doses of the Moderna vaccine to Bhutan, a White House official said. The shipments are part of the Biden …"
Nepal's homegrown Covid heroes
Nepali times – "Nepal's homegrown Covid heroes. Volunteers on the ground are delivering more Covid-19 relief to fellow-Nepalis than they are given credit for."
Coronavirus: Israel to send aid to Nepal – in pictures
The Jerusalem Post – "Israel transferred coronavirus aid, including ventilators, oxygen tanks and advanced protective gear to Nepal on Wednesday, as the country faces over …"
Nepal-Bhutan vaccine appeal to European Commission
Nepali times – "Millions of people in Nepal and Bhutan are in urgent need of Covid-19 vaccines, especially AstraZeneca, in order to vaccinate their citizens with …"
Nepal likely to receive 1.5 million doses of J&J jab from COVAX
The Kathmandu Post – "The first single shot vaccine against Covid-19 is expected within two weeks and officials say they have been planning to administer all the shots within …"
Vaccines too little, too late for Nepal?
Nepali times – "So far, Nepal has only been gifted or bought vaccines from India, China or the COVAX initiative. … Nepal's vaccine diplomacy has failed miserably. … entire adult population would avert 10 deaths from Covid among 18-39-year-olds."
No vax? Ask for Mask.
Nepali times – "Nepal today is living proof of this. As the government … We also know that the official infection and death rates in India and Nepal are underestimated."
American firms say unable to supply vaccines to Nepal before 2022
The Kathmandu Post -"When the coronavirus second wave hit the country in April, a scrambling government started to look for more options, trying to buy vaccines from any …"
Senior citizens increasingly worried as they wait for Covid-19 vaccines
The Kathmandu Post – "Nepal managed to escape the first wave of the coronavirus somewhat unscathed compared to other countries, including those from the West. The most …"
American firms say unable to supply vaccines to Nepal before 2022
The Kathmandu Post – "When the coronavirus second wave hit the country in April, a scrambling government started to look for more options, trying to buy vaccines from any …"
COVID-19 Vaccination: Nepal's status, challenges, and equity issues
MyRepublica – "Also, the vaccines which need much lower temperature such as Pfizer or Moderna vaccines could not be used in the current settings due to the …"
Govt to administer second dose of Vero cell vaccine to elderly people from July 6
MyRepublica KATHMANDU, June 26: "The government is to administer the second dose of Vero cell vaccine against the novel coronavirus disease (COVID-19) to …"
WHO refutes claims it has approved mix and match of two different Covid-19 vaccines
The Kathmandu Post – "Nepal so far has used just two types of vaccine to inoculate its population. The AstraZeneca type vaccine with which Nepal started its vaccination drive …"
Nepal's foreign policy failure
The Kathmandu Post – "For Nepal in particular, domestic politics overshadows foreign policy … to communicate with foreign heads of state for addressing the Covid-19 …"
Lonely wait of Nepal's elderly for 2nd doses
Nepali times – "In March, when Nepal became one of the first countries in the region to start Covid-19 vaccinations with Covishield vaccines for people over 65, …"
Nepal is talking about vaccines from China. And the Chinese don't seem to be happy
The Kathmandu Post – "The same day Prime Minister Oli informed the Covid-19 Crisis Management Centre, which he heads, about procuring the vaccine from China."
Despite the G7 pledge of global aid, South Asian countries still scramble for vaccines.
The New York Times – "But as coronavirus cases rose sharply in India in March, Prime Minister … Nepal's government has appealed to diplomats in Britain, Denmark, South …"
Conversations on COVID: Brown emergency medicine fellow in Nepal is fighting COVID-19 on …
Brown University – "A second wave of the COVID-19 pandemic was crashing over Nepal, causing its already-weak health care infrastructure to collapse. "While the …"
Nepal to purchase 4 million doses of Sinopharm vaccine from China
The Kathmandu Post – "After India faced a Covid-19 crisis of its own, chances of procuring vaccines from the southern neighbour faded. The country is now in a desperate need …"
COVAX Summit: Tackling COVID-19 together
Himalayan Times – "Covid-19 vaccines under COVAX facility arrives in Nepal. Below is a summary of the contribution which Japan has been extending to the world, as well …"
AstraZeneca says antibody treatment failed in preventing COVID-19 in exposed patients
Himalayan Times – "AZD7442 reduced the risk of developing symptomatic COVID-19 by 33% compared to a placebo, which was not statistically significant, the company …"
Pressure from all sides for jabs, but there is no sign of vaccine arrival
The Kathmandu Post – "The ongoing Covid-19 immunisation programme in Kathmandu restarted on Monday after a suspension of three days. "The number of people seeking …"
Nepal's Vaccine Disaster Has Left Millions Unprotected
Foreign Policy – "But the euphoria that saw a decline in COVID-19 cases and a successful rollout of vaccines didn't last long. Lockdown was eased in the following …"
Novavax: Large study finds COVID-19 shot about 90% effective
Himalayan Times – "Vaccine maker Novavax said Monday its COVID-19 shot was highly effective against the disease and also protected against variants in a large study …"
348000 doses from COVAX expected in July, but not enough for country scrambling for vaccines
The Kathmandu Post – "It was between March 7 and 15 that those above the age of 65 got the first dose of Covid-19 vaccine. But when they will get the second dose remains .."
COVAX to provide COVID-19 vaccines to Nepal next week
MyRepublica – "The COVAX facility has announced plans to provide the COVID-19 vaccine developed by Oxford and Astrazeneca to Nepal in the coming week."
US to buy 500M Pfizer vaccines to share globally
AP SOURCE: "The U.S. will buy 500 million more doses of the Pfizer COVID-19 vaccine to share through the global COVAX alliance for donation to 92 lower income countries and the African Union over the next year, a person familiar with the matter said Wednesday."
US has purchased and will donate 500 million doses of Pfizer's vaccine worldwide
200 million doses will go out in 2021
300 million does next year
92 lower-income nations (includes Nepal) and the African Union
Mixing COVID-19 vaccines appears to boost immune responses
Science Magazine – "In three recent studies, researchers have found that following one dose of the vaccine made by AstraZeneca with a dose of the Pfizer-BioNTech vaccine …"
American vaccines effective against COVID strain first found in India: US officials
National Herald – "COVID-19 vaccines that are available in the United States are effective against … Officials at Nepal's Health Ministry said that officials from Patanjali …"
Biden Asia chief 'relatively confident' on billion vaccine timing despite India crisis
MyRepublica – "
… despite the 
COVID
–
19
 crisis in India, where they are due to be made. Asked at an event hosted by the Center for a New American Security think tank …
Vaccine makers should give half their doses to Covax, WHO chief says
Washington Post – "Nepal on Tuesday restarted vaccinating elderly residents after China donated 1 million coronavirus vaccine doses to the Himalayan nation's struggling …"
Vero cell Covid-19 vaccine being administered across country from today; more groups added for …
Himalayan Times – "The government has started another round of Covid-19 inoculation drive … recently sent 1 million doses of anti-coronavirus jabs to Nepal on a grant."
AstraZeneca vaccine to be provided as alternative to Covishield
Himalayan Times – "The government is to provide the AstraZeneca COVID-19 vaccine as an … additional quantities of Covishield vaccines to Nepal for the time being."
Indian PM Modi announces free COVID-19 vaccines for all adults
MyRepublica – "NEW DELHI, June 7: Prime Minister Narendra Modi said on Monday that the Indian federal government would provide COVID-19 vaccines free of …"
AstraZeneca vaccine to be provided as alternative to Covishield
Khabarhub – "Now the Ministry of Health and Population is to give the AstraZeneca vaccine for those waiting for the booster shot of Covishield as both vaccines are …"
Nepal signs non-disclosure agreement to buy Chinese Covid-19 vaccines but legal questions remain
The Kathmandu Post – "Nepal's law does not allow such an agreement. Nepal wants to buy 10 million doses, but Sinopharm can only supply 2 million now and the price is not …"
How the US will allocate its first 25 million COVID vaccine doses worldwide
Wink News – "According to the White House, the 25 million doses will include the Johnson & Johnson, Pfizer and Moderna COVID-19 vaccines, but not AstraZeneca, …"
Denmark to provide 1.4 million AstraZeneca vaccines to Nepal
Khabarhub – "KATHMANDU: The government of Denmark has pledged to provide 1.4 million doses of AstraZeneca coronavirus vaccine to Nepal. Denmark sent a …"
China's Sinovac COVID-19 vaccine approved for emergency use in Nepal
Macau Business – "Nepal's drug regulator has approved the COVID-19 vaccine developed by Chinese pharmaceutical company Sinovac Biotech for emergency use in .."
COVID-19 Vaccines Work Way Better Than We Had Ever Expected. Scientists Are Still Figuring Out …
BuzzFeed News – "The world desperately needs multiple COVID-19 vaccines to address the huge access … AstraZeneca's vaccine is 60% effective against the strain."
Better to stick with AstraZeneca or go mRNA for second dose?
Montreal Gazette – "Which vaccine should those who have had a first dose of AstraZeneca take for their second shot? With Canada's National Advisory Committee on …"
AstraZeneca vaccine: If I develop a blood clot, what are my chances of dying?
Daily Express "READ MORE: Nepal Covid variant symptoms: The 'most common' bodily … "This needs to be balanced with the known risks of coronavirus causing …"
FACT SHEET: Biden-Harris Administration Unveils Strategy for Global Vaccine Sharing US Embassy in Nepal – "As we continue to fight the COVID-19 pandemic at home and work to end the pandemic worldwide, President Biden has promised that the United …"
A Return to Normal? Not for Countries With Covid Surges and Few Vaccines.
The New York Times – "This is the case in Malaysia, Nepal and other nations in Asia. But in few places is the situation as bleak as South America, which has the highest rate …"
Coronavirus: Foreign holidays under threat from 'Nepal variant' detected in Europe, report claims
The Independent – "Foreign holidays could be under threat this summer due to government fears about a new Covid variant thought to have originated in Nepal, according …"
India's COVID-19 Outbreak Has Spread To Nepal
NPR – "India's COVID-19 outbreak has spread to neighboring Nepal, where it's straining an even smaller, less-resourced health system. The virus has even …"
AstraZeneca commits to 1.8 million Thai vaccine doses amid supply anxiety
The Kathmandu Post – "Drugmaker AstraZeneca said on Wednesday it would soon provide Thailand with 1.8 million doses of locally manufactured Covid-19 vaccine, the first …"
Japan to donate additional $800 mln, vaccines to WHO's COVAX body: media
Himalayan Times – "… pledge an additional $800 million to the World Health Organisation's COVAX programme, which provides COVID-19 vaccines to countries in need, …"
WHO approves Sinovac COVID vaccine, the second Chinese-made dose listed
Reuters – "The World Health Organization (WHO) said on Tuesday it has approved a COVID-19 vaccine made by drugmaker Sinovac Biotech (SVA.O) for emergency use listing, paving the way for a second Chinese shot to be used in poor countries …"
WASHINGTON (AP) — "In April, the Biden administration announced plans to share millions of COVID-19 vaccine doses with the world by the end of June. Five weeks later, nations around the globe are still waiting — with growing impatience — to learn where the vaccines will go and how they will be distributed …"To President Joe Biden, the doses represent a modern-day "arsenal of democracy," serving as the ultimate carrot for America's partners abroad, but also as a necessary tool for global health, capable of saving millions of lives and returning a semblance of normalcy to friends and foes alike.
Dharan Sub-Metropolis to procure COVID-19 vaccines on its own
Himalayan Times – "DHARAN, MAY 31. Dharan Sub-Metropolitan City in Sunsari district has rolled up its sleeve to vaccinate the locals as part of COVID-19 prevention …"
Nepal Covid-19 impact worse than official figures
Nepali times – "Nepal Covid-19 impact worse than official figures. Only hospital deaths are counted, without testing daily caseload total is meaningless. Kaustubh Dhital …"
Post-COVID-19 recovery: It may be a long process for some
Himalayan Times – "Different studies across the world have shown that some COVID-19 patients face some kind of problems in their regular activities even after recovering …"
What you need to know about the coronavirus right now
Reuters – "The South Asia region – India, Bangladesh, Pakistan, Bhutan, Nepal, Maldives and Sri Lanka – accounts for 18% of global COVID-19 cases and almost …"
Nepal to procure 10 million COVID-19 vaccines from China and US
MyRepublica – "Speaking in a virtual event organized by Health Journalist Forum on Friday, Pradeep Gyawali, the Minister for Foreign Affairs, said that Nepal is soon to …"
Delhi Govt Urgently Invites Global Tenders For 10 Million COVID-19 Vaccine Doses
India.com – "The Delhi government has floated a global expression of interest (EOI), inviting bidding for global tender for procurement …"
Without Fast Action, Covid's Deadliest Phase May Be Here
The New York Times – "Dr. Tufekci is a contributing Opinion writer who has extensively examined the Covid-19 pandemic. If world leaders don't act now, the end of the Covid …"
LIVE: South Asian regions accounts for 18% of global cases of Covid-19
Hindustan Times – "The South Asia region – India, Bangladesh, Pakistan, Bhutan, Nepal, … India's daily Covid-19 cases fall to 186,364; death toll reaches 318,895 …"
Sharing Intellectual Property for Covid-19 Vaccines Would Help More Than Donations
Human Rights Watch – "The world is witnessing a tale of two pandemics. France is unwinding lockdown measures, while in India, Nepal, Cambodia and Brazil, Covid-19 …"
US Covid cases down more than 50% since start of May as the country averages 1.7 million daily …
CNBC – "India is currently the epicenter of the global coronavirus pandemic, but other countries from Argentina in Latin America to Nepal in Asia have also …"
Beijing announces vaccine aid amid Kathmandu's hectic diplomatic push
The Kathmandu Post – "Amid no let-up in coronavirus cases, Nepal's vaccine needs have just … And there is no denying that Covid-19 vaccine is not just a global public good.
Decision to close groceries triggers panic buying
The Kathmandu Post – "When Sigdel returned home she was more worried, fearing Covid-19 infection because the shoppers were not maintaining social distance …"
In 'vaccine apartheid,' Nepal is ground zero. It needs US help
STAT – "Immediate, bilateral support through sharing AstraZeneca Covid-19 vaccine doses from its stockpile is essential to save further loss of life in Nepal and …"
Prohibitory orders in Kathmandu Valley extended until June 3 | Ratopati | No.1 Nepali News Portal
Ratopati – "Uttarakhand: COVID-19 test mandatory for people arriving from five states … Pfizer jab 95.8% effective against Covid: Israel health ministry …"
The world's biggest vaccine maker is stalling on exports. That's a problem for the planet's most vulnerable
CNN – "(CNN) When Uddhab Gautam got his first vaccine dose back in February, Covid-19 cases in Nepal were low. Now, three months later, coronavirus …"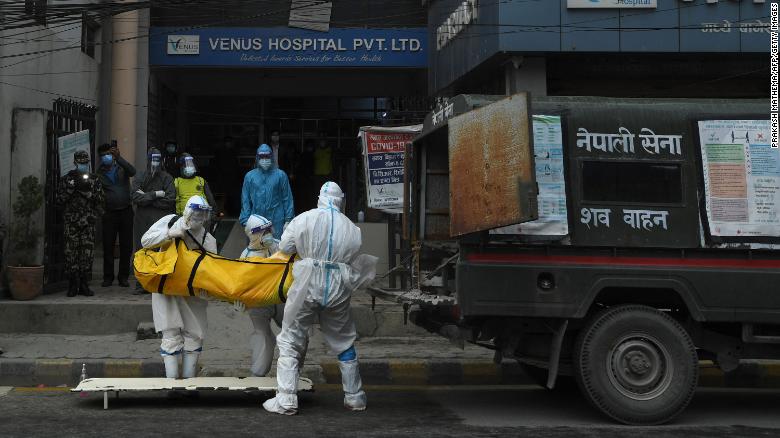 Government decides to widen gap between first and second doses of Covishield vaccine
The Kathmandu Post – "Amid uncertainty over when the country would get the Covishield vaccine from Serum Institute of India to give second doses to the eldery population, the government has decided to widen the gap between the first and second doses of the vaccine. Over 1.3 million people aged above 65 had taken their first doses of the vaccine from March 7 to March 15. They were supposed to get the booster dose eight to 12 weeks after the first dose. This means, they should have taken the second jabs by June 6…"
Nepal requests US for COVID-19 vaccine
MyRepublica – Deputy Secretary Sherman assured that the new US Administration will continue to extend cooperation in Nepal's socio economic sector, including the …
COVAX admits delays, asks Nepal to choose vaccine other than Covishield
The Kathmandu Post – "Amid uncertainty over Covid-19 vaccine supplies to Nepal, the country's one immediate hope, the COVAX facility, has communicated to the …"

With Positivity Rate At 44%, Nepal Stares At Covid Catastrophe
Outlook India – "A devastating second wave of the Covid pandemic has left Nepal facing a massive humanitarian crisis as the Himalayan country grappled to provide …"
China foundation launches community oxygen station program to help Nepal curb COVID-19
Xinhua – "This program had been carried out as a prompt response to the second wave of COVID-19 in Nepal," said Zou Zhiqiang, the country director of CFPA …
Nepal needs urgent American vaccine support
Nepali times – "… after King Girvana Yuddha Bikram Shah died from exposure to smallpox. Desperate for help, Nepal's ruling class lobbied the East India Company …"
Pfizer, AstraZeneca Effective Against Variants, Study Finds | Voice of America – English
Voice of America – "Two doses of the COVID-19 vaccines made by Pfizer-BioNTech or … are about as effective against the coronavirus variant first found in India as they are … $84 million for assistance to address Nepal's worst COVID-19 outbreak."
UN Appeals for Funds to Help Nepal Deal With COVID-19 | Voice of America – English
Voice of America GENEVA – "The United Nations is appealing for nearly $84 million for assistance to 750,000 people in Nepal suffering from a devastating COVID-19 …"
Vaccinated travellers test positive to COVID-19
NEWS.com.au – "Of the 180 cases found in overseas travellers in the four weeks to May 15, most came from India (91) followed by Pakistan (14), Nepal (12) and the …"
COVID-19 death tolls are likely a "significant undercount", WHO says
Himalayan Times – GENEVA, MAY 21. "Official tolls showing the number of deaths directly or indirectly attributed to the COVID-19 pandemic are likely to be a "significant …"
Covid fight could return 'to square one' as experts sound vaccines alarm
The Kathmandu Post – "Rich countries with plentiful Covid-19 vaccine stocks must now share them immediately, at scale, otherwise, the pandemic could be prolonged as the world struggles to contain a virus that is continuing to spread and mutate … India's export ban on Covid-19 shots risks dragging the battle against the pandemic "back to square one" unless wealthy nations step in to plug a gaping hole in the COVAX global vaccine-sharing scheme, health specialists said on Thursday …"
https://tkpo.st/2RzLROU
Complete shots of AstraZeneca vaccine 85 to 90% effective: study
Himalayan Times – "A new analysis of real data from the rollout of Oxford/AstraZeneca shots in the UK has found that complete two doses of the COVID-19 vaccine are …"
Direct Relief-Chartered Airlift Bound for Nepal Amid Covid-19 Surge
"The 25-ton airlift to Nepal is the third by Direct Relief this month after two FedEx-donated charters arrived in India …"
Prioritized Medical Items Expected from USA – Embassy of Nepal, Washington DC, USA
Embassy of Nepal, Washington DC, USA – "Nepal is facing massive infection of COVID-19 virus in the recent days. Insufficient essential medicines, health equipment and vaccines is posing a …"
BREAKING: USAID is airlifting urgent health supplies to NepalFlag of Nepal to help combat #COVID19. This is the first in a series of flights to Nepal.
FACT SHEET: Biden-Harris Administration is Providing at least 80 million COVID-19 Vaccines for Global Use
US Embassy in Nepal – "Today's announcement is the Administration's next step as we ramp up our efforts to respond to COVID-19 around the world. Going forward over the …"
Nepal, Bangladesh scramble to secure COVID-19 shots as India curbs exports
Himalayan Times – "Representative image of Covid-19 vaccine as shared by Ambassador Nicola Pollitt on Twitter. KATHMANDU/DHAKA, MAY 19. Nepal and Bangladesh … Nepal, which started its vaccination drive in January with 2.35 million doses of the AstraZeneca shot provided by India and COVAX, also said it has no stocks and more than 1.55 million people were waiting for their second dose."People above 65 and others in risk groups who received their first shots of the Indian vaccine are waiting for their second," Jhalak Gautam, head of the vaccine section of the Ministry of Health and Population, told Reuters."It's already overdue," he said, adding the SII had yet to deliver one million shots that Nepal bought …"
India's Serum Institute to provide COVID-19 vaccine only by end of 2021
MyRepublica – "Nepal likely to get the remaining one million doses only after 7 to 8 months. KATHMANDU, May 19: The Serum Institute, the world's largest COVID-19 …"
On a Per-Person Basis, Nepal's Covid Surge Exceeds India's
Direct Relief – "Nepal is reporting roughly 296 daily cases per million people, compared to India's 231 daily cases per million. In Nepal, cases of Covid-19 are …"
Nepal confirms presence of third and new variant of coronavirus
ANI News
ANI | Updated: May 19, 2021 00:54 IST. Kathmandu [Nepal], May 19 (ANI): "After confirming two variants of coronavirus, Nepal on Tuesday confirmed …"
India unlikely to resume sizable Covid-19 vaccine exports until October
The Kathmandu Post – "India is unlikely to resume major exports of Covid-19 vaccines until at least October as it diverts shots for domestic use, three government sources said …"
Nepal's COVID-19 Curbs Trigger 1.9 Million Liters of Milk Wastage Daily
Nepali Sansar – "Daily, a whopping total of 1.9 million liters of milk is being wasted due to COVID-19 countermeasures implemented across the country. Before the …"
Rich nations in partnership with India need to step up their game to bridge Nepal's Covid vaccines
Daijiworld.com – "India's massive and unexpected second wave of Covid-19 has upset previous plans. Countries such as Bangladesh and Nepal which were looking for …"
Nepal buying 2 million Vero Cell Covid-19 vaccines from China
Online Khabar (English) – "Meanwhile, the Nepali Embassy in Beijing is coordinating with the Chinese side for the purchase. In preliminary talks, China says it can deliver one …"
Govt begins administering second dose of Verocell vaccine from today
MyRepublica – KATHMANDU, May 16: "The government has begun inoculating the second dose of Verocell, the COVID-19 vaccine developed by China, from Sunday …"
Efforts are underway to send US vaccines to Nepal: Ambassador Khatiwada
MyRepublica – "At a time when the government is facing criticism for not taking any steps to bring COVID-19 vaccines through the diplomatic channels, Ambassador …"
Youth group providing free of cost medical care to COVID-19 infected poor, helpless people appeals for help
MyRepublica – "Dhamala said they are now planning to further expand beds as the number of COVID-19 cases is on the rise in Kathmandu Valley. In addition to the …"
COVID Connect Nepal — Over 130 Volunteers under 'Covid Connect Nepal' Facilitating Resources for People in Distress
Southeast Asia Kept COVID-19 Under Control For Most of the Pandemic. Now It's Battling Worrying New Surges
TIME – "It will be a bit difficult once we have an India-like or Nepal-like situation in any of the Southeast Asian countries," he warns. "It will just spread like a bush fire across the region."
COVID-19 spirals out of control in Nepal: 'Every emergency room is full now'
National Geographic – "Nepal surpassed India's per capita death rate and mortality rates continue to spike as the country faces desperate shortages of oxygen, ventilators, and other critical equipment."
US announces USD 2.75 million support to Nepal to deal with oxygen crisis
Nepal Live Today – "Kathmandu: The US government through the US Indo-Pacific Command (INDOPACOM) has announced USD 2.75 million in support to meet the immediate needs of Nepali people as Nepal reels under the second wave of Covid-19 infections."
The Kathmandu Post – "The country so far has received 3,148,000 doses and used 2,397,000 doses. Those who took the first dose of China's Sinopharm vaccine will be administered the second dose from May 16 to May 25."
"Beijing has also provided 800,000 coronavirus vaccines to Nepal, where cases are surging. Kathmandu had received a million doses of the AstraZeneca shot from India, plus half of another promised two million, in addition to 350,000 via the Covax initiative." Read more HERE.
Nepal receives China-donated oxygen cylinders
China Plus
The first shipment of oxygen cylinders and ventilators donated by China has arrived in Nepal.
COVID-19 biggest crisis India has ever seen: Eminent Indian-American philanthropist
India TV
"The problem is if India doesn't contain it, it's going to hit Nepal, Bangladesh, Sri Lanka, many countries around India. This could cause a big human …
via News24.tv — The infected who is being treated on the floor of Teku Hospital are happy; says – 'did not take admission anywhere'
COVID Variant First Detected in India Spreads to Nearly 50 Countries | Voice of America – English
Voice of America
A day after declaring the COVID-19 variant first detected in India as one of … India's total number of confirmed COVID-19 infections is now above 23 … Nepal Struggles With 2nd COVID Wave as India's Outbreak Spills Across Border.
Nepal's active cases surpass 100k mark as 9238 intraday cases surface Wednesday
Himalayan Times
KATHMANDU, MAY 12. Nepal's Covid-19 tally moved to 422,349 as 9,238 fresh cases were reported in the past 24 hours on Wednesday, bringing the …
Nepal battered by 'crisis of oxygen' amid soaring Covid cases
CNN
As Nepal's Covid-19 cases spike, hospitals are starting to turn patients away and doctors are raising the alarm about what they're calling a "crisis of …
Nepal extends flight ban till 31 May
Nepali times
Even as the Covid-19 surge devastates Nepal, the government has extended restrictions of international air travel till 31 May, and lengthened the …
---
MAY 12, 2021
State Department and USAID Officials Testify on Global Response to Coronavirus Pandemic
State Department and U.S. Agency for International Development (USAID) officials testified on the international response to the COVID-19 pandemic.